How A Peanut Ball is Used in Labor
What is a peanut ball? How is a peanut ball used in labor?
There are many important benefits to changing positions regularly in labor.
We often suggest that women in labor change positions every 30 mins to an hour. When you are laboring with an epidural you are limited in the number of different positions you can try because you are mostly confined to your hospital bed. One tool that can help us is a peanut ball and here is how!
A peanut ball is similar to a yoga or exercise ball, but it's shaped like a peanut shell. (There is nothing peanutty about it other than that!) Different sizes of peanut balls are available. It is a tool for supporting labor progress.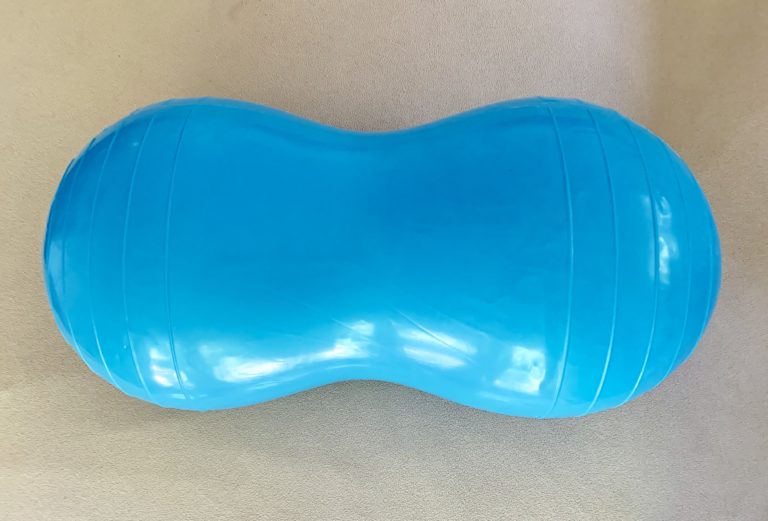 While resting in bed, lying on your side, sitting or semi-sitting the peanut ball can be placed in between your legs, or under one leg. This gives your pelvis optimal positioning by keeping your legs open. This is helpful when laboring with an epidural in your hospital bed. (If you have an epidural and are limited in how much you can move your body – your partner, doula or nurse can be a great helper to get you situated in one of these positions.) The peanut ball is even helpful for those women who are just resting and taking a break in bed during labor without an epidural.
Why does this work?
The peanut ball used in the above mentioned ways helps to widen the pelvic outlet. Widening the pelvic outlet is one way to support the natural progress of labor. Using position changes to widen the pelvic outlet can be beneficial.
If you are not laboring with an epidural, using a larger peanut ball on the floor you can straddle and sit on the ball, swaying back and forth. Again this keeps your legs open and widens your pelvic outlet. This may be even safer and more comfortable than sitting on a regular birth ball. Due to its shape the peanut ball can't roll around as much.
Research provides evidence that laboring women with an epidural who use a peanut ball, compared to women who did not, had significantly shorter lengths of labor and a higher likelihood of spontaneous vaginal birth. It is a useful intervention to help labor progress and support vaginal birth with or without an epidural.

In our experience, nearly every hospital in Tampa Bay now provides and uses peanut balls to support labor! Nurses and labor doulas alike love and swear by peanut balls for the above reasons.