Our Top Five Strollers for 2021
Picking out the perfect stroller can feel a little daunting with so many options available. You may be unsure of what features you'll like or need until your baby arrives.
Whether you are pregnant and creating your baby registry, working on establishing a nap schedule with your newborn, or juggling an infant and a toddler - sooner or later you are going to venture out beyond your four walls.
To help you find the best stroller for your family we've researched and reviewed some of the most popular stroller choices out there. Here are our top 5 favorite strollers for 2021 and why we love them!
1. Coast (Silver Cross)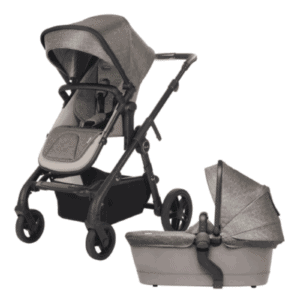 This stylish stroller hails from the land of Mary Poppins. With an innovative British design, it's a single stroller, bassinet, and reversible stroller all rolled into one. For growing families, it becomes a double stroller with the addition of the optional tandem seat or car seat. Add the ride-on board option and it can carry three children.
The bassinet can also be used with the folding bassinet stand and makes it a great sleeping space for nights away.
Great for grocery or farmer's market runs, the Coast Stroller will keep your busy toddler contained, and allow your sweet baby to sleep, too.
Price: $650 - $999 depending on where you purchase it.
See all of the special features from Coast (Silver Cross) here.
2. CruzV2 (UPPABaby)
Several of our Buddha Belly clients have this stroller and are happy customers. It has an extra large basket for carrying all the necessities you need. The UPF 50+ canopy protects your baby from the hot Florida sun. There are also accessories for different ages and stages including a bassinet, car seat adaptors and expansion sets for siblings. Pair it with the Mesa infant car seat and you have a full travel system.
With the reversible toddler seat, your toddler can ride forward, backwards, completely upright, reclined or anywhere in between. It also comes in several pretty color combinations like dusty pink, deep sea blue, and more. Combine all these features and you'll see why it's one of our top favorite strollers.
Price: $520 - $680
Learn more about the CruzV2 stroller here.

3. Mockingbird Single Stroller 
When it comes to style and functionality, Mockingbird is hard to beat. This is a fan favorite with our clients. We love that it can go from parent facing to forward facing as your child grows, so they can see the world around them on your adventures.
The smooth ride of rubber tires, the all weather canopy with the 50+ UPF protection, and the heavy duty 25 pound basket (holy moly that's a lot of storage space) is only made better by the fact that this single stroller can easily adapt to fit most car seats.
Our favorite feature might be the easy folding system that can be managed one-handed while holding a baby. Yes!
You can also pair it with the 2nd Seat Kit for two-seat capacity. Choose from a variety of color, pattern and frame styles available. For a luxury stroller that's got it all, you can't beat the price.
Price: $350 - $400
Read more about the Mockingbird stroller here. 
4. Graco Modes Travel System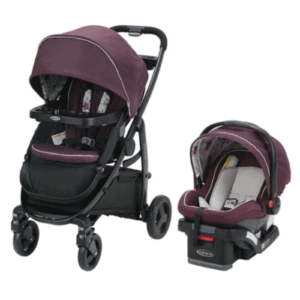 This stroller and car seat system grows with you as your baby goes from an infant to a toddler up to 50 lbs, with 10 different riding options.
We love that the car seat attaches directly to the stroller allowing your baby to continue his scheduled nap while you enjoy some fresh air and sunshine or even lunch with a friend at an outdoor cafe.
It also has a one-hand standing fold with an automatic storage latch for easy storage, and the toddler stroller can flip to face forward or to face you.
Price: $200 - $300.
Learn more about the Graco Modes Travel system here. 
5. Baby Trend 2-in-1 Stroller Wagon 
How about this cool concept of a stroller that is also a wagon?! With seating for two it is ideal for outdoor activities and events. It has a hideaway pull handle that easily transforms it from push stroller mode to pull a wagon mode. A fellow baseball Mom brings her adorable little baby girl to big brother's baseball games in this stroller every week. Her baby loves having the space to hang out or snack while watching the game.
Parents will appreciate the storage solutions including parent and child trays with two cup holders and center consoles, plus two additional cup holders outside the wagon.
For those hot and buggy summer days the extra large UPF 50+ canopy and air-flow mosquito netting has you covered. The compact flat fold for storage and travel, as well as the universal infant car seat adapter makes this stroller a top choice. And you can pick it up right at your local Target!
Check out the Baby Trend 2-in-1 stroller wagon here.
Price: $160 - $200
Bonus # 6.  City Mini GT2 Double Stroller (Baby Jogger) 
I know we said this was our top five list, but we wanted to give you this final bonus recommendation for families that have been blessed with twins. This lightweight double stroller fits through any standard doorway, and folds quickly and easily with a one step in-seat fold.
Its stylish design includes adjustable calf supports and near-flat reclining seats to help you find the most comfortable position for your children.
The extra-large storage (holds up to 15 lbs), full-coverage UV 50 canopies with peekaboo windows, an adjustable handlebar, and the inclusion of both a handbrake and a foot brake makes this stroller a winner. You can pair it with the Baby Jogger car seat or customize it with a variety of accessories.
Price: $500 - $600
Learn more about the City Mini GT2 Double Stroller here. 
Have you chosen your stroller yet? Do you have one that you love? Tell us in the comments section on our social sites and we might include them in our next list. Good luck in your search for the best stroller for your family. We are excited to see you up and about!