Second Trimester Checklist: What To Do in the Second Trimester of Pregnancy

Congratulations, you've made it to the second trimester! Hopefully you are settling into this new life of being pregnant and the exhaustion and nausea has decreased. Maybe you're even starting to feel that second trimester boost of energy. We've put together a helpful checklist for you to use as you navigate the next several weeks of pregnancy.
1. Officially announce your pregnancy (if you plan to).
If you've been waiting to make it to the 2nd trimester before announcing your pregnancy, the wait is over! Whether or not and when you decide to announce your pregnancy is totally a personal choice. Have fun with your announcement if you do decide to break the news.
2. Rededicate yourself to nutrition and hydration.
Hopefully you are now getting some relief from pregnancy nausea and morning sickness. Don't worry too much if you have mostly subsisted on carbs and ginger ale during the first trimester. It's a new day and the perfect time to rededicate yourself to fueling your body with nutritious foods and plenty of water. You will notice an improvement in your mood and overall energy level when you are eating a balanced diet and staying on top of your fluid intake. We really like the book Real Food For Pregnancy to add to your reading list.
3. Continue with light exercise and stretching.
There are so many reasons why exercise is important in the second trimester. Remember you are getting your body prepared for labor and birth. Here are some of the benefits listed by ACOG: 
Reduces back pain
Eases constipation
May decrease your risk of gestational diabetes, preeclampsia and cesarean delivery
Promotes healthy weight gain during pregnancy
Improves your overall general fitness and strengthens your heart and blood vessels
We recommend some light yoga, walking or daily stretching. As your body grows and changes you'll notice how good it feels to stretch those muscles and ligaments daily.
4. Make yourself comfortable with a pregnancy pillow.
This is really more of a "nice to have" item than a necessity, but it really is nice to have! With that growing belly comes more discomfort and strain. Having a supportive pregnancy pillow (or pillows) can be a game changer. It makes sleeping on your side in bed a little easier. You can also use your pillow on the couch or anywhere else you might be relaxing. Use as many pillows as you need to get comfortable and get the rest you need.
5. Continue learning from books and trusted blogs.
There is so much to learn about pregnancy, labor, birth, postpartum and early parenting. Have you started looking into all of the hot topics yet? Medicated or unmedicated labor? Circumcision? Vaccinations? Breastfeeding? Bottle Feeding? Postpartum depression treatment? Colic? Sleep deprivation? Dive right in and keep learning so you know what your preferences are and what is right for your family.
6. Get your birth doula team booked.
In the first trimester checklist we recommended that you start looking for your doula team. If you haven't already, it's time to interview prospective doulas to find a team that feels like a good fit for you. Once you find your dream doula team, get them booked. This involves paying a deposit and signing a contract to get your due date locked in on their calendar. Birth doulas can only take on a small number of clients around any given date to ensure that they don't miss anyone's birth. So you'll want to get the doulas nailed down in your 2nd trimester to ensure that they are available around your due date.
7. Decide if you want to find out the baby's sex.
You may wish to find out the baby's sex in advance so you can start thinking about baby names, setting up your nursery, and more. Lots of families choose not to find out and wait for the surprise. Talk this over with your partner and decide what feels right for you.
If you do decide to find out, think about when you'd like to know. Immediately during the ultrasound? Privately, later? At a reveal party?

With my 2nd child we had a private little get-together with a couple of friends at home. We ate a home-cooked meal and dessert. As we sat around the table together everybody made their guesses. I guessed that I was having a boy. We opened the sealed envelope that the ultrasound technician had given us in advance and read the results out loud and we all cheered at the news. It was simple, easy and perfect for our family (no dangerous explosions.)
Yes, it was a boy. I cried. I had lost a baby in a prior pregnancy in the 2nd trimester. For me, knowing this information somehow made everything feel more real. It wasn't just a baby, it was a little boy. I felt a stronger connection. I would have felt that way if it was a girl too. Just knowing more information gave me a sense of hope and peace as I moved forward with my pregnancy after a previous loss. Figure out what works best for you.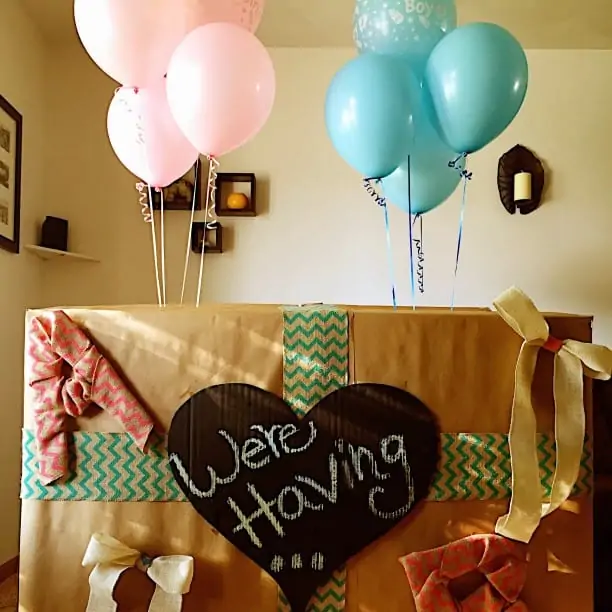 8. Go to your mid-pregnancy anatomy scan or not.
The 20 week anatomy scan is a pregnancy milestone that is often highly anticipated because you get to catch a glimpse of what your baby looks like in there and maybe even bring home printed ultrasound photos to show off. Your provider will be checking that your baby is developing properly and on track and looking at each of her major organs, your uterus and placenta. If you are planning to find out the sex of your baby this is often the time to do so. One fact that most people don't realize is that you do not HAVE to get this ultrasound or any ultrasound if you don't want to. Ultrasounds are voluntary and optional. Learn more about that here.
9. Begin looking for a pediatrician.
Having a pediatrician that you really like and trust makes new parenting a lot easier. You will have periodic visits to the pediatrician to make sure that all is well. The 2nd trimester is a good time to research and interview prospective pediatrician's to find one that aligns with your parenting style. Most pediatrician offices offer meet and greets with expecting parents so you can get to know more about their practice. Ask friends and family who they recommend and make some appointments to meet them. We've compiled this helpful article with tips on things to look for when searching for the right pediatrician for your child. Did you know some pediatricians will even come to your home to make your life easier? Like Dr. Heather Thole that you can read about here.
10. Work on your baby registry.
With so many baby products and gadgets on the market, figuring out what you really need for your baby can be a little confusing. It can also take a lot of time to set up your baby registry so we recommend starting on it in your 2nd trimester. You'll also want to have it completed and ready to share with your baby shower invitees (which usually happens in the 3rd trimester.)

We've got some great blog posts that can help guide you through some of the possible items you might need including: The Best Baby Registry – Advice from a Postpartum Doula.
Check out our baby gear section on our blog to get more ideas.
11. Think about and prepare for your maternity leave and return to work.
This is a good time to talk with your boss, business partner or team about how your maternity/paternity leave will work. Schedule a meeting so you really give this conversation the importance it deserves. Before the meeting make sure you know what your rights and benefits should be. Do you get paid time off? How much time off do you want? Do you need to train a replacement? Make a workable plan for yourself, or with your boss and team. This might also need to include planning a budget for you and your family to cover this time away from work.
The return to work is also important to think about. Will you need childcare? Do you have family members who can help? Will you be able to reduce hours or work from home? If you are planning to hire a nanny or use a day care center, believe it or not, you definitely need to start interviewing and looking sooner than later. Read here to learn what qualifications to look for.
12. Take a vacation aka babymoon.
A babymoon is the last hurrah before your baby arrives. It's a little tribute to your pre-baby life as well as a celebration of the diaper filled days ahead. Parenthood does change everything. You will never again just be you. You will forever now be Mommy, Mum, Ma, Dad, Daddy, Baba, Tati, O'Pa, Nini and the list goes on. We think a vacation to relax and soak in the present moment before the big change is just what the doctor ordered. The 2nd trimester is a great time for a babymoon because this is usually when you feel the best during pregnancy.


13. Rejoice making it to the halfway point!
You are halfway there and this is worth celebrating. Some ideas of things to do to commemorate this achievement in addition to your babymoon vacation: a) Get a maternity/family photoshoot scheduled. We highly recommend Renee Nicole Photography for this. b) Have dinner out with the family at your favorite restaurant. c) Schedule a prenatal massage to pamper yourself. You deserve it.
14. Sign up for childbirth and newborn care classes.
Once you hit the 2nd trimester and especially when your belly starts showing, suddenly you become a magnet for crazy stories and unsolicited advice. I can hear it now….. While most people don't mean to be scary or opinionated they can't help but talk about their own families' story. It goes without saying that labor and birth are experiences that we remember for a lifetime. Listening to all of this can be confusing. Even wading through articles on the internet can be a little scary. How do you know what is accurate or not?

This is why we recommend taking childbirth and newborn care classes during pregnancy.
New research and studies result in changing recommendations. Your certified childbirth educator will have a well-prepared, credible curriculum. She will be up to date on the latest research.⁠ The knowledge you walk away with will be accurate and reliable. ⁠No scare tactics, no bias, no prejudice, no junk. Just the facts! ⁠

Finding classes that work with your schedule can be tricky. Our classes at Buddha Belly sell out frequently. This is why we recommend signing up for the classes during the 2nd trimester to ensure you get a spot that works for you. You can also schedule classes to be taught privately just for you and your partner in the comfort of your home.
15. If you're planning to breastfeed, register for a breastfeeding class too.
As with labor and birth there are also a lot of myths and false information circling around about breastfeeding. Save yourself some heartache and tears and learn the facts from a certified lactation educator. In our breastfeeding classes you will get all of the basics on latching, feeding cues, positioning, pumping and more. Having more knowledge makes a huge difference and helps you get off to a much better start once your little one is here.
16. Think about baby names.
Picking out your baby's name is a fun but challenging process. You never realize how many names you associate with specific people or things until you are trying to name your baby.
"How about George?" "Nope. My next door neighbor George was a mechanic and he always smelled like beer and gasoline." "Okay, moving on. How about Simon?"……
Here are some great tips to keep in mind when choosing baby names. Most importantly, don't stress and have fun with it. When you get the right name you will know!
17. Talk to your older kids about the new baby.
Preparing older siblings for the arrival of their little brother or sister is helpful to the shifting family dynamics. Referring to "our baby" and including siblings in discussions about "our baby" helps them have family ownership and acceptance. For more tips we've got Six Steps to Prepare Older Siblings for New Baby and Helping Your Toddler Adjust to Your Newborn on our blog. 
18. Work together to plan your baby shower.
Your baby shower is such a fun and exciting event especially for first-time moms. Often a family member or friend will offer to host the shower, but you can always host your own if you prefer. Traditionally, baby showers are ladies-only events, however co-ed baby showers are becoming more and more popular. Some options include having a themed shower or playing games. There are great ideas for both of these on Pinterest. In collaboration with your host, you'll need to pick a date, venue and put your guest list together. Scheduling it about 6-8 weeks before your estimated due date is a good idea. Have your baby registry completed before the invites go out so you can include it. Pamper yourself with a cute outfit for the day and have fun!

If this is not your first baby you can still celebrate. You may opt to have a baby "sprinkle" which is a bit more of a low key event. (Don't forget thank you notes after the event for all of your generous guests.)
19. Stock up your maternity wardrobe.
At some point you will stop looking like you just ate too many tacos last Tuesday and it will be evident that you actually have a baby growing in that belly of yours. The 2nd trimester is the time to really build up a versatile maternity wardrobe. Choose items that will grow with you as you transition. Invest in pieces that can be dressed up or down, and that you can mix and match easily (like comfy leggings). And pick out something that makes you feel great. You've earned it.
20. Rest and enjoy your pregnancy.
We can never say it enough, rest is important. You are cooking up a little miracle and you need time to relax and recoup your energy. Take time for yourself guilt-free. You deserve lots of sleep, naps and treats. Pregnancy is hard but you've got this!

(Check out our first trimester checklist here.)