Car Seat Safety, Ages and Stages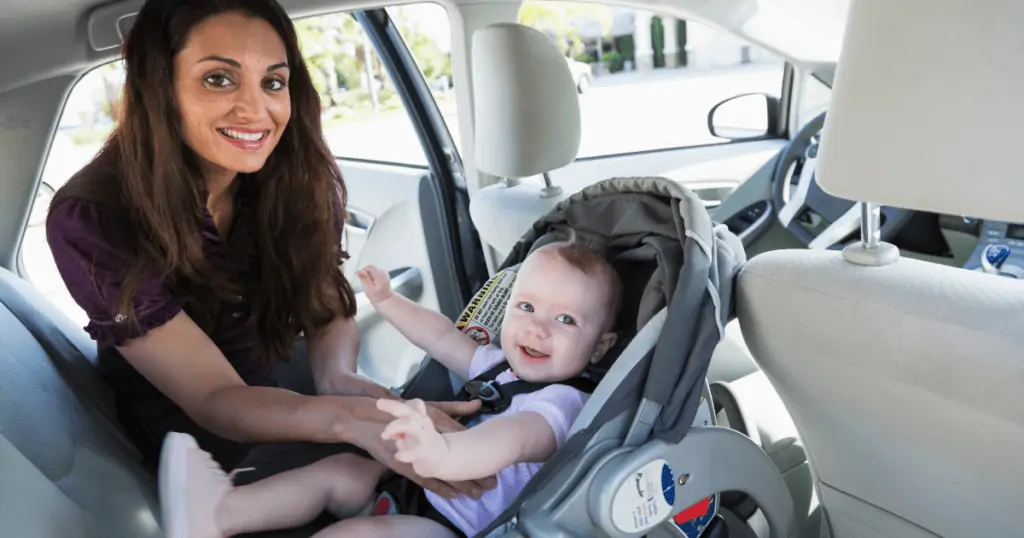 We all want to keep our children safe, yet some discussions about car seats are touchy. The subject of rear facing vs. forward facing car seats can raise some serious debate. In honor of National Child Passenger Safety Month, let's discuss car seat safety for different ages and stages.
How do I choose the right car seat for my child?
All car seats in the United States pass the same minimum standard testing. More expensive car seats may include features that go beyond what is required. However when it comes to safety, the most important factors are fit and installation. The safest car seat is the one that fits your child, fits your vehicle and can be installed correctly by you every time.
Start by selecting a car seat based on your child's age and size. Then choose a seat that fits your vehicle.
According to the National Highway Traffic Safety Administration (NHTSA) there are four categories of car seats. These take us through the different ages and stages:
Rear facing car seats
Front facing car seats
Booster Seats
Seat Belts
Convertible car seats will convert from one of these categories to another. All-in-one car seats switch from rear facing, to forward facing, and ultimately convert to a booster seat.
Use this chart to see the NHTSA outline for car seat recommendations based on your child's age and stage. Read the car seat manufacturer's guidelines so you can make the best choice for your baby. Check out reviews or ratings on Consumer Reports so you know before you buy!
Rear facing vs Forward facing car seats – When should I turn my child around?
Rear facing car seats are infant car seats or convertibles that face the back of the car. These are considered the safest for young children and infants. All babies start out facing this direction.
The rear facing car seat position cradles and supports your infant's head, neck and spine which is extremely important at this early stage of development. In the event of a crash, a rear facing car seat will protect your baby's whole body by absorbing the crash impact, rather than just the seat belt contact points.
Keep your young child in a rear facing seat for as long as possible, until he or she reaches the top height or weight limit allowed by the manufacturer. Most convertible car seats accommodate rear facing up to 40 or 50 lbs. This means most kids can stay rear facing until about 3-4 years old in the right seat.
Front Facing car seats face the front of your vehicle using a harness and tether securing system. These are for children who have reached the maximum weight or height limits of the rear facing mode, but have not yet reached the maximum limits for front facing. Kids will stay in a front-facing seat with a five-point-harness usually until around 5-7 years old.

It's important not to rush to the next level. If your child still fits the height and weight requirements of their current car seat, that is their safest option.
Booster seat and seat belts, when is the right time to move up?
Booster seats are for older children that are ready to transition to using a safety belt in the car, but still need a "boost" to ensure their seat belt is properly positioned for safety. Use a high back booster seat if your car does not have a headrest.
Typically kids are between 5 and 7 when they begin to outgrow the weight limitations of a 5-point harness car seat. Before you make the move to a booster seat, make sure your child meets these requirements:
Kids weighing over 65 pounds are generally ready to switch to a booster seat.
When your child reaches 49 inches tall.
When you believe your child is mature enough to properly sit in a booster seat with the seat belt correctly positioned at all times.
Seat belts should be used for all children that have grown beyond the limits of the car seat options listed above. You should make the transition to a seat belt only for your child when the belt fits properly without the use of a booster seat. Children should always travel in the back seat of the car until they are 13 years old, since deployed front seat air bags can be dangerous to children.
They should have the seat belt on their chest, never around their back. The lap belt should rest against their hips, and the shoulder belt should rest in the middle of their shoulder. If it doesn't, you should keep using the booster seat. Be sure to buckle your child in for every trip in the vehicle.
How can I ensure my child's car seat is installed properly?
We recommend booking a car seat installation and information session with a certified child passenger safety technician (or CPST). These sessions typically last 60- 90 minutes per car seat. During this time, the specialist will answer all of your questions about car seats, guide you through installation, and provide the most up to date car seat safety protocols for your child. They will prepare you with information about how to install your child's car seat in different positions and teach you different installation techniques.
What is a Certified Child Passenger Safety Technician?
A Child Passenger Safety Technician, or CPST, is a certified car seat expert. They have completed training in current safety recommendations for children's car seats. To become a CPST, they must understand proper harness procedures and functions, installation options, differences in vehicles, and even how to help you when you need more than one car seat properly installed in your vehicle. To keep their certification current, they take continuing education courses. They are up to date on new car seats that have been released and the latest information on child passenger safety.
Did you know that car seats expire?
Car seats are fabricated with materials that can become brittle or break as time goes on. Technology is forever evolving which results in changing regulations and standards. For these reasons, every car seat has an expiration date. Car seats typically expire within 6-10 years. Look for a stamp to find the expiration date. If you do not find it, be sure to check the owner's manual or call the manufacturer.
Stay on top of recalls and safety notices.
Register your child's car seat with the manufacturer so you can receive recalls and safety notices to keep your child safe. Send in the card that came with your car seat or fill out a simple form on the manufacturer's website. You can also sign up with NHTSA to receive e-mail alerts about car seat and booster seat recalls.
When it comes to safety for our children, we all know a car seat is a necessity. Keeping your child in the right car seat for their developmental stage is just as necessary. We hope this has provided some helpful guidelines on car seat safety for different ages and stages.